Back to Events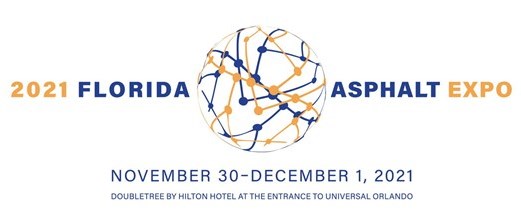 2021 ASPHALT EXPO
Come see the state of the industry at ACAF's Asphalt Conference & Expo.
Tuesday, November 30, 2021
to Wednesday, December 1, 2021
Event Details
Registration for the 2022 Asphalt Conference & Expo is now open!
This year we will be holding the event in-person while abiding by CDC, State, and Local guidelines to mitigate exposure to COVID-19. Fortunately, the space is large enough for us to spread out and the hotel has very thorough protocols to ensure we can hold the event safely.
Caribe Royale
Hotel Reservations:
We have secured guest rooms for _______-, 2022 at the discount rate of $++/night.
You may make your hotel room reservation by calling:
The Discounted Room Rate ended on _____. You can still book a room, but it may be at a higher rate.

Group Name:
Group Code:
A discounted rate of $____
per day is available to all registered attendees.
THE EXPO FLOOR IS SOLD OUT!
ompanies that will be present at the Expo visit:


BACK AGAIN THIS YEAR!
COME SEE EQUIPMENT DISPLAYED ON THE SHOW FLOOR
FEATURING
Alta Equipment Company
Beard Equipment Company
Dobbs Equipment/John Deere
GS Equipment
Interactive Virtual Reality Experience
Exhibitors (as of )
ACE Fiber
Alta Equipment Company
Arkema Road Science
Asphalt Test Solutions & Engineering
Astec, Inc.
BASF Corporation
Beard Equipment Company
Blacklidge
BOMAG Americas
Cargill
CMEC
Compound Technologies
Company Wrench Ltd.
Crush It
Dobbs Equipment
Earthwave Technologies
FORTA Asphalt Fiber
Foundation Professionals of Florida
GS Equipment
Haul Hub
InstroTek
International Cybernetics Company, LP
Iron Sheepdog
Kraton
Lengemann Corporation
Linder
Maxam Equipment, Inc.
Nouryon
Pavement Technology, Inc.
PavementSoft
Port City Pipe, Inc.
PRI Asphalt Technologies, Inc.
Road Bulders Supply
Roadtec, Inc.
Stansteel/Hotmix Parts
Sapphire Gas Solutions
Troxler Electronic Labs
Trux
Women of Asphalt
THANK YOU TO OUR 2022 EXPO SPONSORS
---
---
---
Download Agenda
For More Information:

1007 E. DeSoto Park Drive, Suite 201
Tallahassee, FL 32301
850.222.7300
COVID-19 SAFETY INFORMATION:
While participating in events held or sponsored by the Asphalt Contractors Association of Florida, Inc. ("ACAF") "social distancing" must be practiced and face coverings worn at all times to reduce the risks of exposure to COVID-19. Because COVID-19 is extremely contagious and is spread mainly from person-to-person contact, ACAF has put in place preventative measures to reduce the spread of COVID-19. However, ACAF cannot guarantee that its participants, volunteers, partners, or others in attendance will not become infected with COVID-19.
In light of the ongoing spread of COVID-19, individuals who fall within any of the categories below should not engage in ACAF events and/or other face to face fundraising activities. By attending an ACAF event, you certify that you do not fall into any of the following categories:
1. Individuals who currently or within the past fourteen (14) days have experienced any symptoms associated with COVID-19, which include fever, cough, and shortness of breath among others.
2. Individuals who have traveled at any point in the past fourteen (14) days either internationally or to a community in the U.S. that has experienced or is experiencing sustained community spread of COVID-19; or
3. Individuals who believe that they may have been exposed to a confirmed or suspected case of COVID-19 or have been diagnosed with COVID-19 and are not yet cleared as non-contagious by state or local public health authorities or the health care team responsible for their treatment.
DUTY TO SELF-MONITOR:
Participants and volunteers agree to self-monitor for signs and symptoms of COVID-19 (symptoms typically include fever, cough, and shortness of breath) and, contact ACAF at [email protected] if he/she experiences symptoms of COVID-19 within 14 days after participating or volunteering with ACAF.
LIABILITY WAIVER AND RELEASE OF CLAIMS:
I acknowledge that I derive personal satisfaction and a benefit by virtue of my participation and/or voluntarism with ACAF, and I willingly engage in ACAF events and/or other fundraising activities (the "Activity").
RELEASE AND WAIVER.
I HEREBY RELEASE, WAIVE AND FOREVER DISCHARGE ANY AND ALL LIABILITY, CLAIMS, AND DEMANDS OF WHATEVER KIND OR NATURE AGAINST THE ASPHALT CONTRACTORS ASSOCIATION OF FLORIDA, INC. AND ITS AFFILIATED PARTNERS AND SPONSORS, INCLUDING IN EACH CASE, WITHOUT LIMITATION, THEIR DIRECTORS, OFFICERS, EMPLOYEES, VOLUNTEERS, AND AGENTS (THE "RELEASED PARTIES"), EITHER IN LAW OR IN EQUITY, TO THE FULLEST EXTENT PERMISSIBLE BY LAW, INCLUDING BUT NOT LIMITED TO DAMAGES OR LOSSES CAUSED BY THE NEGLIGENCE, FAULT OR CONDUCT OF ANY KIND ON THE PART OF THE RELEASED PARTIES, INCLUDING BUT NOT LIMITED TO DEATH, BODILY INJURY, ILLNESS, ECONOMIC LOSS OR OUT OF POCKET EXPENSES, OR LOSS OR DAMAGE TO PROPERTY, WHICH I, MY HEIRS, ASSIGNEES, NEXT OF KIN AND/OR LEGALLY APPOINTED OR DESIGNATED REPRESENTATIVES, MAY HAVE OR WHICH MAY HEREINAFTER ACCRUE ON MY BEHALF, WHICH ARISE OR MAY HEREAFTER ARISE FROM MY PARTICIPATION WITH THE ACTIVITY.
ASSUMPTION OF THE RISK. I acknowledge and understand the following:
1. Participation includes possible exposure to and illness from infectious diseases including but not limited to COVID-19. While particular rules and personal discipline may reduce this risk, the risk of serious illness and death does exist;
2. I knowingly and freely assume all such risks related to illness and infectious diseases, such as COVID-19, even if arising from the negligence or fault of the Released Parties;
3. I hereby knowingly assume the risk of injury, harm and loss associated with the Activity, including any injury, harm and loss caused by the negligence, fault or conduct of any kind on the part of the Released Parties.
MEDICAL ACKNOWLEDGMENT AND RELEASE. I acknowledge the health risks associated with the Activity, including but not limited to transient dizziness, lightheaded, fainting, nausea, muscle cramping, musculoskeletal injury, joint pains, sprains and strains, heart attack, stroke, or sudden death. I agree that if I experience any of these or any other symptoms during the Activity, I will discontinue my participation immediately and seek appropriate medical attention. I DO HEREBY RELEASE AND FOREVER DISCHARGE THE RELEASED PARTIES FROM ANY CLAIM WHATSOEVER WHICH ARISES OR MAY HEREAFTER ARISE ON ACCOUNT OF ANY FIRST AID, TREATMENT, OR SERVICE RENDERED IN CONNECTION WITH MY PARTICIPATION IN THE ACTIVITY.
As a participant, volunteer, or attendee, You recognize that your participation, involvement and/or attendance at any ACAF fundraising event or activity ("Activity") is voluntary and may result in personal injury (including death) and/or property damage. By attending, observing or participating in the Activity, You acknowledge and assume all risks and dangers associated with your participation and/or attendance at the Activity, and You agree that: (a) the Asphalt Contractors Association of Florida, Inc. (b) the property or site owner of the Activity, and (c) all past, present and future affiliates, successors, assigns, employees, volunteers, vendors, partners, directors, and officers, of such entities (subsections (a) through (c), collectively, the "Released Parties"), will not be responsible for any personal injury (including death), property damage, or other loss suffered as a result of your participation in, attendance at, and/or observation of the Activity, regardless if any such injuries or losses are caused by the negligence of any of the Released Parties (collectively, the "Released Claims"). BY ATTENDING AND/OR PARTICIPATING IN THE ACTIVITY, YOU ARE DEEMED TO HAVE GIVEN A FULL RELEASE OF LIABILITY TO THE RELEASED PARTIES TO THE FULLEST EXTENT PERMITTED BY LAW.