Back to Events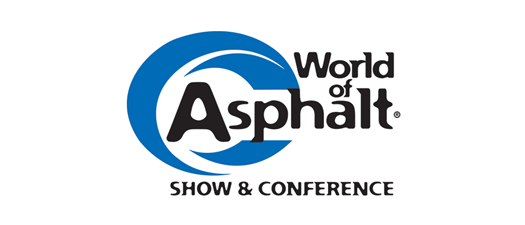 2022 World of Asphalt - Show and Conference
Tuesday, March 29, 2022
to Thursday, March 31, 2022
Event Details
Held every year except during CONEXPO-CON/AGG years, World of Asphalt is the leading trade show and conference focused on the asphalt and paving industries, whose most recent edition was recognized by Trade Show Executive as one of the "Fastest 50" growing trade shows. The show features the best education, and latest equipment, products, services and technologies for the asphalt and paving industries. The next World of Asphalt, co-located with the AGG1 Academy & Expo, will be held March 29-31, 2022 at the Music City Center in Nashville, Tenn. For more information on World of Asphalt, visit www.WorldOfAsphalt.com.
---
The Five Most Popular Education Sessions for Asphalt Pros
All 120 of the of the education sessions offer important, critical content for asphalt pros. The anticipated most popular 5 Sessions asphalt paving pros can use to build their business and skillsets are:
PAVING – Not Everything is Flat: Paving Up, Down and Around

(Todd Mansell)

Proper paver setup and use of automatic and manual grade and slope control enables contractors to tackle a wide variety of paving scenarios. This session will cover best practices for paver setup and take off on uphill and downhill grades, wide-width paving, and paving through super elevations.

PAVING – Best Practices for Residential and Commercial Paving

(Brian Hall)

Commercial pavers must employ good paving practices but use them more rigorously as they face the challenge of sculpting pavement to meet — in some cases — extreme geometric and grade constraints. Because commercial paving can be so challenging, having a good understanding of the principles of quality construction and utilizing best practices are necessary to performing an award-winning job. This session will help you help your customer be successful with asphalt paving projects.

PEOPLE – 10 Commandments of Supervision

(Larry Kokkelenberg)

The promotion from worker to supervisor is one of the largest in anyone's career. It means going from pure task focus to a combination of task and relationships. Little, if any, management training is given to an employee prior to their promotion to supervisor. In this program, you will learn 10 things you can do to build your relationship and skills as a supervisor and prepare you for future leadership responsibilities."

PLANTS – Key Metrics for Monitoring Performance at Asphalt Plants

(Ron Sines)

Asphalt plants are complex mechanical systems. In order to get optimum performance from a plant, it is imperative that key performance metrics are properly monitored. This session will provide key performance metrics to ensure top plant performance.

PEOPLE – Top Ten Reasons Why Small Businesses Fail

(Larry Kokkelenberg)

This program is for the small contractor (100 employees or less). In this session, the Top 10 reasons why small businesses fail and what can be done to avoid those failures are addressed. According to the U.S. Small Business Administration, over 50% of small businesses fail in the first year and 95% fail within the first five years. According to Forbes, less than one-third of family businesses survive the transition from first- to second-generation ownership. Another 50% don't survive the transition from second- to third-generation. Come learn what causes small businesses to fail and evaluate your company against these issues.



"The People, Plants and Paving offerings are essential to the asphalt pavement industry," said Dr. Audrey Copeland, president and CEO of NAPA, majority-owner of the show. "Now is the time to look through the education sessions, create your list of sessions you can use to build your skillset, and then register."
PURPOSE
World of Asphalt Show & Conference focuses exclusively on the asphalt industry as its leading exposition and education resource. World of Asphalt features in-depth industry-focused educational programming and comprehensive exhibits that showcase the latest technologies and innovations in asphalt-related equipment, products, and services.
The World of Asphalt Show & Conference is co-located with NSSGA's AGG1 Academy & Expo, providing an enhanced show experience for attendees by offering additional exhibits and education opportunities.
DATES AND LOCATION
The next World of Asphalt will be held Tuesday, March 29 through Thursday, March 31, 2022, in Nashville, Tennessee.

World of Asphalt is held annually except in CONEXPO-CON/AGG years when that exposition highlights the equipment, products, and services featured at World of Asphalt in distinct and major product-concentration areas.
Show Hours
Tuesday, March 9: 11:00 am – 5:00 pm*
Wednesday, March 10: 11:00 am – 5:00 pm*
Thursday, March 11: 9:00 am – 1:00 pm*
*Education sessions start before the show. Hours are subject to change.
ATTENDEES
World of Asphalt is geared toward asphalt, highway/street, pavement maintenance and traffic safety industry professionals from all types of companies such as small to large contractors, materials producers, state and agency specification personnel, maintenance companies, manufacturers and service providers. Over 8,000 visitors come from across the United States as well as worldwide.
EXHIBITS
World of Asphalt exhibits offers a broad array of the newest products, technologies, and services from over 300 leading industry companies in areas including:
Asphalt production and recycling equipment
Road-building machinery
Pavement maintenance equipment
Soil stabilizers
Information technology
Chemical and petroleum products
Pollution control
Testing equipment
Work zone safety and traffic management
Trucks and trailers
World of Asphalt features a New Products & Technology Program as another way for attendees to quickly find new and innovative products and services on the show floor. In addition, product-focused exhibit pavilions make it easier for attendees and exhibitors to connect and discuss specific operational function view Who's Exhibiting to learn more.
EDUCATION
World of Asphalt hosts prestigious asphalt industry educational conferences, including the 'People, Plants and Paving' conference.