Back to Events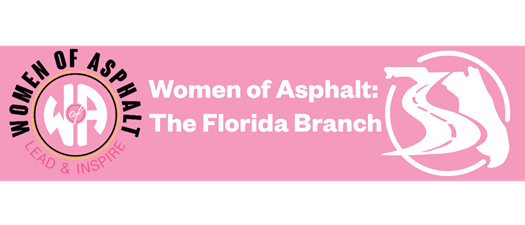 Women of Asphalt Florida Branch, Inaugural Meeting
Thursday, June 10, 2021
Event Details
Zoom Webinar:
https://us02web.zoom.us/j/86074503192
Engineering, science and construction have historically been male-dominated industries. Over the past few years, there's been an increase in the number of women moving into these fields. The asphalt industry is no exception. Although women do not represent a majority, they are beginning to represent more positions across the industry, from the field to the C-suite.
The Women of Asphalt is a national coalition which supports women in all aspects of the asphalt industry through mentoring, education, and advocacy, and by encouraging women to seek careers in the asphalt industry.
The Florida Branch of the Women of Asphalt will establish a local group for women in Florida. This group will strive to:
To foster and promote mentoring and networking opportunities for women in asphalt
To create professional development opportunities for women in asphalt through education and training
To advocate for women in the asphalt industry
To encourage other women to join the asphalt industry
The first meeting of WoA-FL will be June 10th, 2021 in Naples, FL. This will coincide with ACAF's summer convnetion. Attendance at the convention is not a requirement for attending the WoA-FL meeting.
For More Information:

1007 E. DeSoto Park Drive, Suite 201
Tallahassee, FL 32301
850.222.7300