Using The Membership Directory And Member Compass
Date posted
August 7, 2020
Use the Member Directory and Member Compass to get the most of your membership benefits with ACAF. As part of our member management software, Novi AMS, these features allow  you to efficiently manage your membership. Find answers to a few Frequently Asked Questions at the end of this post.
The Member Directory
The Member Directory allows you to find and connect with other ACAF members. Here are some of the features of the Membership Directory:
Filter by Member Type: Affiliate, Associate, and Regular Members.
Search by Company name: Search by typing in just a few letters of a company's name in the Quick Search bar.
The Member Compass
The Member Compass is where you manage your membership information.  When you login, the first page you are redirected to is the Member Compass. This is the place for ACAF members to manage membership activity such as view and pay open invoices, see event registrations, and update individual and/or company contact information as needed.
Access Levels:   Everyone that logs in can see their membership status, their transactions, event history, order history, and their own personal profile information.  You may also see information about your company, depending on your access level.
Billing Contacts

 can see and pay transactions for the company and related contacts. Billing contacts cannot edit their company's information.

 

Primary  Contacts

,

 or those that have been granted 

Management Access

 for your Company, are able to update Company information, including the contact information. They also can grant Management Access for other staff.  If your company name needs to be updated, please Contact Us

for assistance.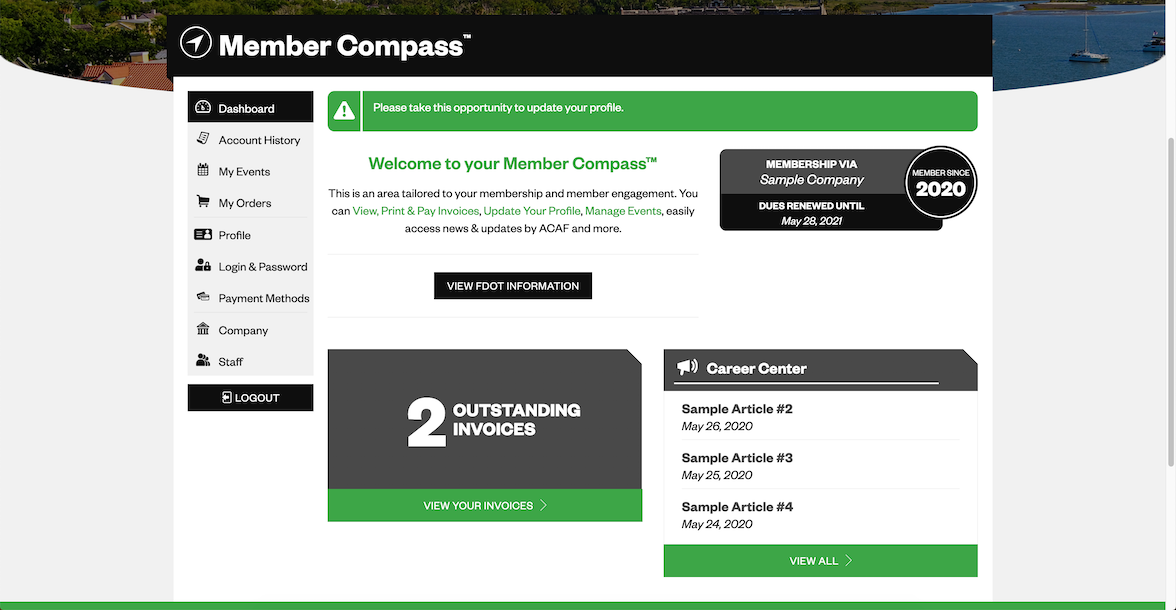 Navigation Tabs (on the Left)
Dashboard: Click this at any time to get back to the main Member Compass home page.  In this section, if you're registered for upcoming events, or if you have open invoices, you'll see them prominently displayed here. 
Select the Account History tab to view past transactions and detailed information on your invoice history.
The My Events tab shows your current registrations for upcoming events. Past events you've attended will also be listed, in addition to other upcoming events.
My Orders: Orders, including subscription or product purchases and donatons, are shown here. 
The Profile tab is where you can update your individual profile information. This can include your bio, headshots, credentials, social media links, or other information.
Use the Login & Password tab to update your login credentials, and Payment Methods to make changes to your saved payment methods (if applicable).
Company/Staff: If you have certain permission levels, you may be able to update the company's online profile and staff. Upload logos, descriptions, links to social media, and any other information you'd like to share with other ACAF members. Updates made here are reflected in the member directory.
If the Company Name needs to be updated, contact us for assistance.
---
Frequently Asked Questions:
Login to access your full member benefits. To do so, click the Login button in the top right of the page. Need to create an account? Visit this article to find out how.
How can I tell if I registered for an upcoming event? View your registrations in the My Events tab of the Member Compass to see events you are currently registered for, plus events you've previously attended.
How do I view and pay my invoices? In the member compass, select either Pay Balance or Accounting History to view transactions that have been billed to you. Primary Contacts, Billing Contacts, and staff with management access are also able to view the transactions billed to the company and other related contacts.
---
If you need additional assistance, we're here to help!  Contact us here.